Compliments, Work-Life Balance and Jesus-in-a-Baseball-Cap
"You're special," his eyes sparkled. "You are one of the most compassionate, giving people I know and most people who have gone through what you have, well, they tend to turn out differently. You're a giver."
I wasn't feeling very special. I'd just spent the last 9 days almost totally bedridden.
While some people complained of sinus issues:
"Oh my allergies are acting up with this weather!"
Others complained of the flu:
"I feel achy everywhere!"
My suffering was self-induced: exhaustion… again. My nerves twitched, my stomach convulsed, my skull shrunk as I realized I'd been sick more in the last year than I ever had, despite having access to some of the best healthcare professionals in Las Vegas.
Recently I traveled with Keynote Speaker Heather Wilde from Las Vegas to St. Louis through Paris to Casablanca and back, on a campaign to Raise Awareness for Women in Tech. There are many memorable moments about this particular trip that touched me and changed me forever.
Being laid up in bed in the aftermath of a whirlwind of travel and tours, shaking hands and putting together presentations, inspiring others while searching for my own inspiration, gave me some time to pause and reflect:
1) I was humbled when my community, the one I have so eagerly cultivated, helped with my travel expenses. I ran into hard times this summer I almost had to cancel the trip. A GoFund Me campaign was created and my tribe chipped in to send me. Several donors will receive a 1-hour coaching session with yours truly. I am eternally grateful for the support of my tribe and I'm excited to jump on those coaching calls to hear what innovative new ideas that have been percolating as we charge in to 2016! <3
2) Despite all of the simplifying I've done this year, there's more work to do in this area of my life. It is far easier to encourage others to simplify than it is to do it yourself. This is just one of the reasons we all need allies, mentors, collaborators and friends who pay attention and are willing to tell you the truth.
3) I really, really love speaking to audiences and sharing what I've learned! I had a blast on this trip. I learned a lot about conferences and how other techies are rockin' it in other parts of the world (watch for more upcoming videos and blog posts about the trip). I want to develop this part of my career even more. In fact, I've already been invited to 5 speaking gigs in 2016. If your company or organization would benefit from any of the topics below, then I'm your girl…
1) Branding (Core Values, Company Culture, Design)
2) Diversity & Inclusion
3) Digital Advertising (SEO, Social Media, Blogging)
4) Mentorship or
5) How To Work Yourself Into Exhaustion (Just kidding. Not really. Who better to speak about work-life integration than someone who is always pushing her limits?)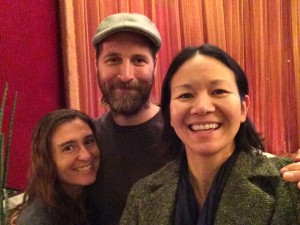 This brings me back to my pious cousin, sparkling with divinity. Me, exhausted, wearing jeans and a sleep shirt. Him, doing his best jesus-in-a-baseball-cap. Staring at me like the big brother I never had, he seemed to emit a white-light-bubble that quieted the casino noise around us. Long hair, tanned skin from living in the Land of Galilee (yeah, look it up in your nearest bible if you're wondering. Or google maps.) for the last 2.5 months, he looked toned and peacefully angelic.
"You're special," he'd said.
In my LOUDEST inside-my-head-voice, I protested, "He's lying!"
There's no possible way that anyone could be that joyful so consistently. How are we even related and why didn't I get THOSE genes? I've felt awkward and shameful and anxious my whole life for being different and here, my sepharic cousin, was telling me I was different, but in a good way.
"You kids make sure you stay off the carpet." Our white-light-bubble popped as security interrupted my cousin to warn his kids. He went into Papa Bear mode and The Angel shed his wings.
"What was I saying now…Well, it's been really great to spend time with you."
Let that sit with you. I hope you are fortunate enough to have someone you respect, love, admire and enjoy being around tell you that you are special. Become more skilled at absorbing compliments. Most people shake them off with a polite "thank you," especially when they are of the superficial kind:
"Your hair looks nice."
"I love that outfit."
When someone tells you that you matter; That time spent with you is a worthy investment of their own precious time… you have nowhere to run, nowhere to hide. You are forced to look at yourself and you may question yourself, "Am I worthy?" If I have learned one thing as of late, it is this: the answer to that question must always be "YES!" even when the loudest voices of doubt, insecurity and fear are trying to convince you to say "No."
People are amazing. You are, and I am too, whether we always believe it or not. My cousin, he is some kind of wonderful and when you find those around you who are special (they are there if you are willing to pay attention), the best gift you can give yourself is to trust their judgment and be humbled and inspired by their generous spirit. Be grateful that you are lucky enough to spend precious time together. Remember they are a reflection of you.
It's hard to say "I love you" and harder still to hear it. But if you open yourself up to receive and integrate compliments into your core, then my guess is that you will come to recognize them and own them… because you really are special. You are a good mix of all your hopes, dreams, losses, loves and life experiences. Trust me, you are. But I have to be honest, you might not be quite as special as my awesome cousin who believes in me enough to make me say "YES!" to the possibility that he is right.
If you found value in this post and would like to hire me to speak at your next event, then please contact me: 702.900.3419.
Related