Chris "Wood" Anderson
•••This was written on Christmas Eve 2016 and originally appeared on FB. I have since been contacted by Chris's family thanking me and I wanted to memorialize the tribute to him here on my blog. The attached photo was sent to me by the baby in the picture…Chris's nephew, who is now and adult. Since the time that I wrote this, my life has taken on a deeper level of gratitude for the quality relationships in my life. I have less time for people unwilling to connect authentically. I have a greater appreciation for the strong hearts who show up to support me in my personal life and in my professional life. They help me be brave, therefore confidence in my SELF has increased. I feel more grounded. Solid. Supported. I know I have developed the skills to ask for help from my friends and mentors when I need it. And if I find myself feeling hopeless, ungrateful, uncertain… I remember Wood and I can feel grateful and brave again.•••
I was 16 when I met Chris "Wood" Anderson. I guess it was the summer of 1992 or maybe 1993. I attended the MTU Summer Youth Program's "Women and Minorities in Engineering Program." Chris was a camp counselor. While we didn't spend much time engaging during the week-long program, I remember him being the kind of relaxed, chill "adult" that I wanted to become. I wanted to be a camp counselor like he was when I grew up.
He just seemed so grounded.
Solid.
Two yrs later I became a student at MTU. Accepted into their highly-revered Chemical Engineering program, I had a received a Bacco Construction Engineering Scholarship (before I switched my major to Ecology & Environmental Sciences). Chris and I met again while we were both MTU students since we hung out in the same circles.
Two more yrs into my studies I was employed by the Summer Youth Programs dept. A senior, by that time Chris was much more involved at the programming level of the department… Still solid. Still awesome, we became close. That was the summer he decided he needed a new nickname. He gave himself his own nickname.
"Dude, you can't give yourself your own nickname."
"I just did. And I'm only going to answer to 'Wood' from now on."
And he did.
He never was one to follow the crowd.
"Wood."
Solid. Grounded.
He was practical and straight-forward. Complainers confused him every winter, "I don't understand it. People are so funny. We go to school in the Upper Peninsula. They act like they're surprised it's cold. Just dress for the weather. It's not like you can do anything about the weather." One day I was complaining about the overcast winter sky and he was like, "Yes, but the sun is ALWAYS shining. If it wasn't we'd be dead. Haha. So you can smile, knowing that the sun is always shining. It might be behind the clouds, but it's still there."
He had one of the greenest thumbs of anyone I knew. He once gave me this ginormous philodendron that he'd grown for YEARS. It stretched 25' across my ceiling… It took me just 18 months to kill it.
???? (Hey, my degree is in Ecology, not Gardening).
He was grateful for his talented friends. He would talk about how awesome his friends were and how grateful he was that they were such talented artists, musicians, intellectuals, engineers…
He came home with me for Christmas break once. My teenage brother thereafter would occasionally send his regards "Tell the Morning Boy I said 'hi,' eh?" Lol.
A couple yrs later we caught up again when he'd become a teacher in Colorado. I had moved to downtown Denver, then the suburbs. Wood and I were roommates briefly. And we kicked around the mountains together…hiking, camping, hanging with friends… all while he was working hard to make a difference in his Native American Community and in the public school system. He was the type of guy who didn't mind getting arrested for protesting on Indigenous People's Day.
The last time I spoke with Wood was on the phone, just over 13 yrs ago. He was living on a Native American reservation in the U.P., trying to make a difference against all odds, and he was frustrated. He envisioned a brighter, more prosperous future for his community and the educational system. Not everyone could see his vision. His efforts were met with resistance…often. He had such a compassionate heart.
13 years passes quickly. Today passed by oh. so. slowwww. since I learned Wood committed suicide last night. I haven't been able to quite fully process the information. I will never forget you, Wood. I'm sorry your tender heart couldn't take any more of this cruel world. I'm sorry you didn't feel you had any other way out. I'm sorry you hurt so much that you were willing to sacrifice everything to avoid the pain of having this human experience. You were one of the first ppl to help me start on the journey to self-discovery… to help me begin to understand my value. I am lucky to have known you. I am grateful for our time together. May you rest in peace.
I hope everyone is staying safe out there. I hope your hearts are grateful and strong. And if they aren't, then I hope you are brave enough to reach out and connect to 1,2,3…as many ppl as it takes until you become inspired to be the change you wish to see in the world. Life is tough for many, not just during the holidays, but every day. Pls have the courage to ask for help, no matter how sad or embarrassed or ashamed you might feel. There is no need to add any more pain in the world. Instead, work towards healing your pain. Wood was loved by many. There are lots of sad hearts out there tonight because of his passing. Such an unnecessary, painful loss… tonight, more than ever, I am grateful for the supportive ppl in my life. As Wood would say, "Rock on!"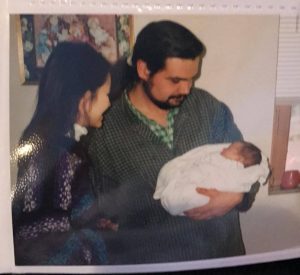 If you are struggling with depression, I recommend contacting To Write Love On Her Arms (http://www.twloha.org) for help with depression, self-harm, anxiety, and suicidal thoughts.
Check out the original post from 12.24.2016 on Facebook…
Related