Calling Young Adults! Do you have an idea for writing a chapter book? Join me for this weekly virtual writer's workshop!
Register in advance for this meeting by clicking here
After registering, you will receive a confirmation email containing information about joining the meeting.
Requirements:
The workshop will run for 5 weeks. We will have a 1-hour session each week

Wednesdays at 11am PDT/2pm EDT (April 29th, May 6th, May 13th, May 20th, May 27th) 

– Weekly 60-min video meetings using zoom.us on a computer, tablet, or cell phone. Visit zoom.us and install.

Participants must WANT to write a book

Factual or fiction, with chapters (This workshop series isn't for writing simple children's books with one sentence per page.)

You must be willing to attend all 5 sessions, talk, chat, email, and otherwise engage with the group.

Must already know what the book is going to be about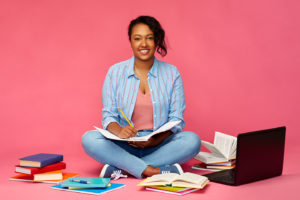 Workshop Structure:
Wake up – we are going to greet our creativity with intention – First 5 minutes: Focus exercise to help you concentrate on why you are writing a book
Stretch – stretch your imagination – Next 15 minutes: Understanding your creative process and improvisational warm-up writing exercises
Flow – Creative Writing Session (topics below)
Prepare – Final 5 minutes: Homework assignment due the day before our next session
Implement – This part you do on your own time after our class is over. You should be writing at least 300 words per day.
---
Session 1: There are lots of ways to write a book, I'm going to teach you about the creative process and hopefully get you thinking about your OWN creative process.
Session 2: Creating the outline. What is the broad, over-arching story you are going to tell throughout each chapter? Activity homework: send me an excerpt from one of your favorite books. We will discuss it and why you chose that excerpt.
Session 3: Fill in a chapter from your outline. Activity homework: Write your biography for your back page of your book.
Session 4: Fill in a chapter from your outline. Activity homework: take a picture that you feel good about using for your book promotion. You may ask someone to help you take a portrait or you may take a selfie. There are ways to practice taking a good selfie. https://www.luckygirliegirl.com/selfies-with-penguins/
Session 5: Fill in a chapter from your outline. Marketing Ideas for your book. Next, create a storybrand for your story.  Activity homework: Core values, common themes, potential partners and supporters
Resources: