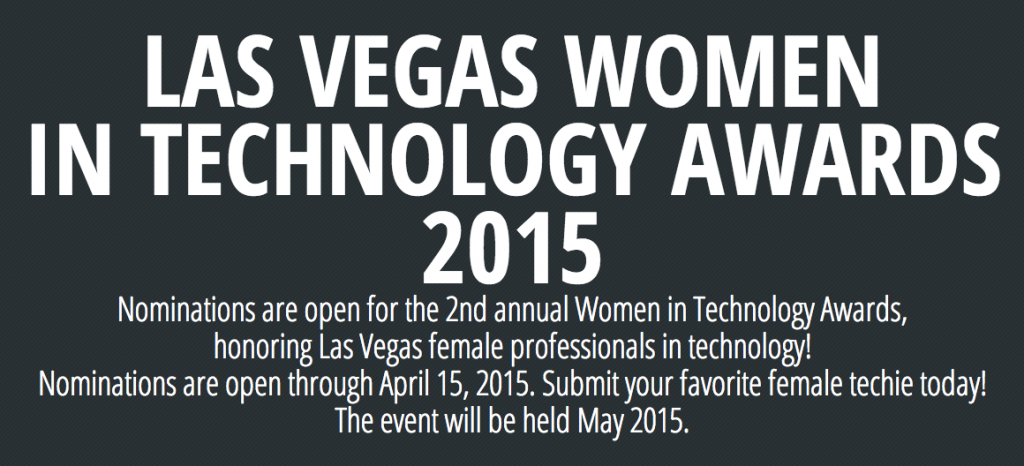 from Vegas Inc
As Rep. Dina Titus addressed the crowd Wednesday at the second-annual Las Vegas Women in Technology Awards, she saw the beginnings of a solution to a national problem.
"We need more women in the STEM and high-tech fields, and Las Vegas is setting the standard," said Titus, D-Nev.
Held at the Foundation Room atop Mandalay Bay, the awards honored Las Vegas-area women in the tech, entrepreneurial and startup sectors. Winners were recognized for their mentorship, community service and entrepreneurship, along with categories for a Rising Star and Woman of the Year.
Ciara Byrne, co-founder of environmental crowdfunding platform Green Our Planet, took the Woman of the Year award. Accepting the award on her behalf, cofounder Kim MacQuarrie highlighted Green Our Planet's work with the Clark County School District to put gardens in area schools.
The Las Vegas-based startup has helped fund gardens in 63 Clark County elementary, middle and high schools, with seven more schools on the way, according to its website.
Margaret Taylor, the chairwoman of the Computing and Information Technology Department at the College of Southern Nevada, received the award for High Tech Mentor. The College of Southern Nevada was one of the event's sponsors, along with primary sponsor Zappos. The High Tech Community Service Award went to Christina Aldan.
Jennifer Chin, the 2015 High Tech Rising Star, epitomized the dynamic pattern of the current Las Vegas tech scene.
Chin and her partner, Elizabeth Yin, started their email advertising company LaunchBit partially with funding from Zappos CEO Tony Hsieh's VegasTechFund. Chin and Yin moved LaunchBit to Las Vegas in 2012. Two years later, the company was acquired by BuySellAds, a Boston-based ad sales service.
Now Chin works as a senior developer for WiseBanyan, a New York City and Las Vegas-based personal investment service. Vicki Zhou, WiseBanyan's co-founder, took home the High Tech Entrepreneur award.
Asked whether mentorship was important in easing her path into a career as an entrepreneur and developer, Chin gave a different answer. It was a collaborative approach that helped pave the way, she said.
"I didn't study what I do now in college," Chin said. "I'm a self-taught developer. The fastest way to learn is to make connections with people in the field."
Still, Las Vegas has a long way to go to maximize its potential as a tech hotbed. A Brookings Mountain West study last year found that while technology and high-tech manufacturing jobs are growing in Nevada, locals don't have the training or education to take advantage of that growth.
Awards organizer Melissa Skipworth also highlighted the need for mentorship and diversity to ensure that more women join Las Vegas' growing tech industry.